Jim Grant – January 11, 2019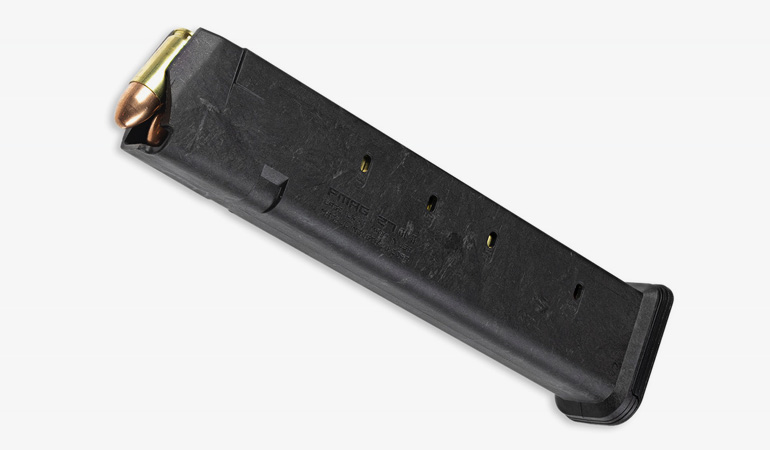 Magpul's new PMAG 27 gives Magpul fans and PCC lovers a new option for increased capacity.
In the world of handguns, Glock automatic pistols are the gold standard for reliability. One of the most important contributing factors to this reliability, are the gun's extremely durable, polymer magazines.
Affordable, and well-regarded, it was somewhat baffling when Magpul announced it was getting into the Glock aftermarket magazine business back in 2015. In the three years since, Glock has managed to capture a decent share of the aftermarket magazine business.
The only area they hadn't ventured into yet, was the extended magazine market. While this market might not have been as massive only a few years ago, the introduction of dozens of different pistol caliber carbines that utilize these mags makes it ripe for the picking.
But nearly every Glock extended magazine (both aftermarket and OEM) are identical in capacity and size. Specifically, their length makes them ineligible for USPSA competition. These new 27-round magazines from Glock, however, are the exact competition-legal 170mm length.
More than that, Magpul states the following in their PMAG 27 FAQ:
"9mm rounds have a case taper, meaning that the taller the round stack, the more it tends to curve. Too tall of a round stack in a straight magazine creates unwanted friction and binding and can reduce the
reliability that we demand of our products; this why most purpose designed 9mm carbine and submachine gun magazines are curved. In order to maintain compatibility with various GLOCK magazine compatible magazine wells as well as reliability with typical JHP and similar flatter nosed projectiles, we kept the straight magazine body, but limited it to 27 Rounds."
In a nutshell, the engineers are Glock probably found that by reducing the capacity from the standard 33 rounds to 27, they greatly increased the magazine's reliability. I can attest, that when loaded to full capacity, some of my 33-round KCI magazines would struggled to feed on occasion.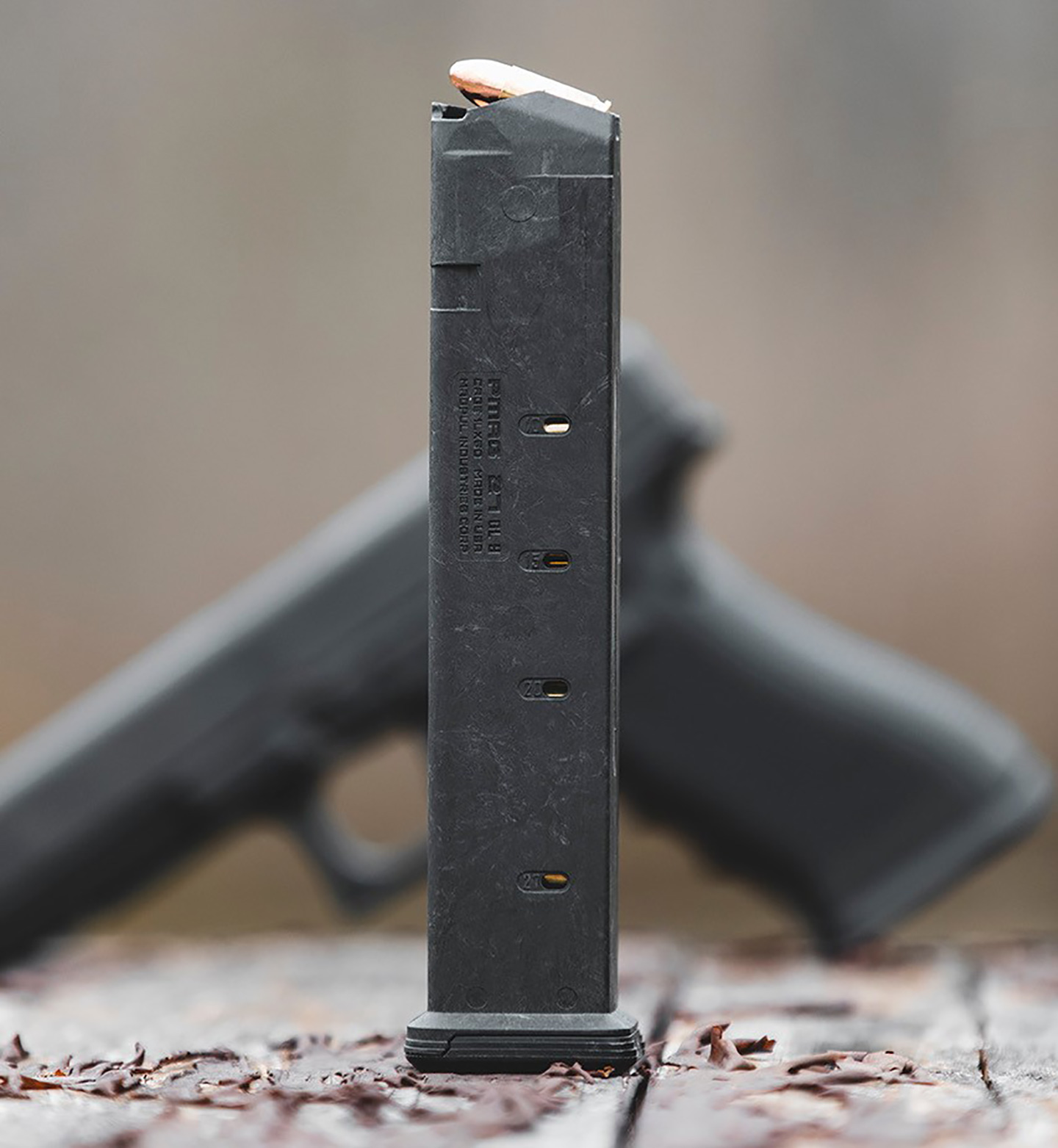 The new extended Glock magazine from Magpul towers over the Glock 19 in the backgound.
For me, I'm happy to see more options in the higher-capacity Glock magazine market. Anything that runs well in my Kel-Tec Sub 2000 is a slam dunk in my book. Plus, with its affordable $19.99 MSRP, I don't feel bad about buying a few and stashing them away for later.
Hopefully, we'll get some in for review in the near future, and have a chance to run them hard and see if they live up the Magpul name. Based on the performance of some of my older GL9 magazines, I'm sure they'll work great.
Source: Firearms News