SIG SAUER, Inc. – March 27, 2019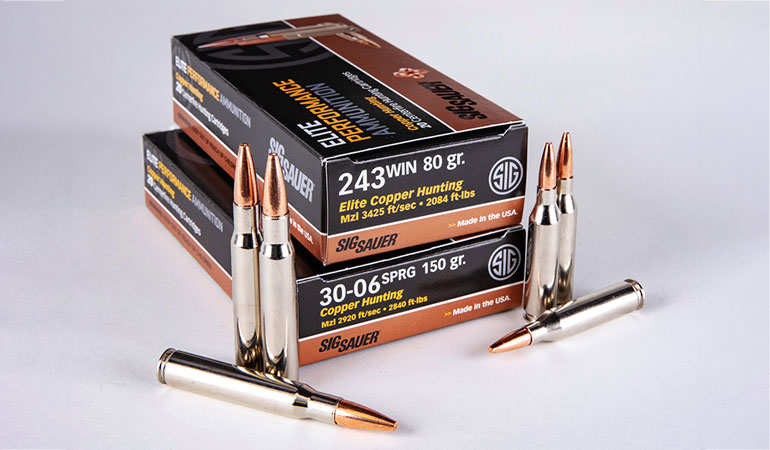 SIG SAUER, Inc. adds .243 Win. and .30-06 Springfield loads to its premium-grade, Elite Hunting ammunition line. These Copper Game rounds feature an all-copper bullet that delivers deep penetration and consistent 1.8x diameter expansion.
The 80gr .243 Win. Copper Game round has a muzzle velocity of 3,425 fps and muzzle energy of 2,084 ft-lbs, making it an excellent load for hunting deer, antelope & coyotes.
The 150gr .30-06 Springfield round has a muzzle velocity of 2,920 fps and muzzle energy of 2,841 ft-lbs and is an effective, hard-hitting round for hunting hogs, whitetail and mule deer.
"SIG SAUER Elite Hunting ammunition is known for its long-range accuracy and effectiveness in the field and our customers – dealers and hunters alike – continue to ask for additional offerings in this line," said Brad Criner, Senior Director, Brand Management and Business Development, SIG SAUER Ammunition. "At SIG, we are committed to developing the highest quality, best on-target performing products across a broad spectrum of end-uses including hunting, match, range and carry ammo, plus component products."
SIG Elite Hunting cartridges use premium, high-quality powders & primers for minimum velocity variation and maximum bullet expansion. Perfected for easy feeding, with an optimized nose geometry and nickel-plated casings, Elite Hunting rounds deliver reliable performance and long-range accuracy.
SIG Elite Hunting Copper Game ammunition is currently available in:
60gr 223 Rem
80gr 243 Win
120gr 300BLK
120gr 6.5 Creedmoor
150gr 30-06 SPRG
150gr 308 Win
165gr 300 Win Mag
The SIG SAUER Elite Hunting Copper Game loads in 243 Win and 30-06 Springfield are now available for purchase at the sigsauer.com/store.
For more information, visit sigsauer.com/ammunition.
Source: Firearms News