David Fortier – June 20, 2019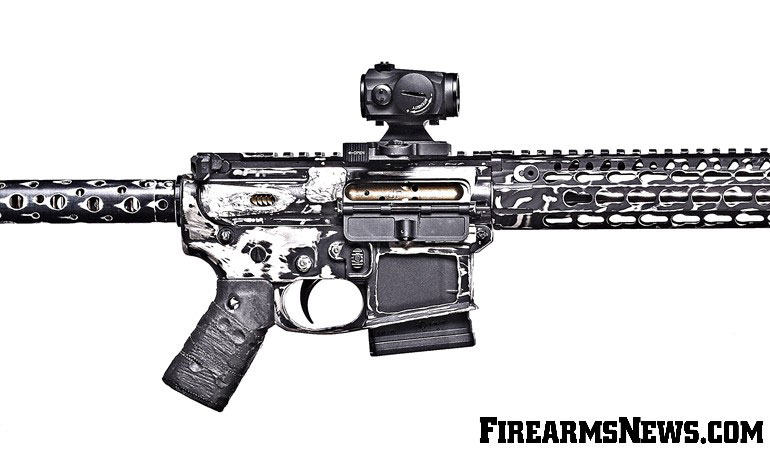 Yes, this 6.5mm Grendel AR-15 pistol has been lightened to just 2.9 pounds! Talk about the perfect piece for ultra-light backpacking.
Photos by Mike Anschuetz
It was a simple question, how much did I think a freshly built AR-15 pistol weighed. The head of our SIP Division, David Faubion, and I were chatting about a 6.5mm Grendel AR he had just built when the question came up. I hadn't had a chance to see it yet, so I figured it was probably in the 5 pound range. I was floored when he revealed it tipped the scales at a wispy 2.9 pounds! Talk about a weight reduction! Here is an AR-15 pistol capable of tackling medium game out to 300 yards, and it weighs less than a loaded 1911. Think about it.

David Faubion purged every bit of excess weight during his build. The result weighs less than a loaded 1911 pistol while being capable of taking medium size game at 200+ yards.
Faubion started the project simply to see how light he could go using quality parts. To use old school gearhead lingo, he then proceeded to "chop and channel" it. He drilled, milled and dremeled weight away. Machining off the forward assist and case deflector from the Fostech magnesium upper, and skeletonizing the mag well he described as "liberating". John Thomas at Retro Arms Works machined an 11.5 inch stainless steel barrel Faubion had in his parts pile down to a mere 14.4 ounces. Another huge weight reduction was made by ditching the steel bolt carrier assembly for an aluminum unit. Faubion selected a JP Rifles' Ultra Low Mass Operating System (LMOS) bolt carrier assembly. To keep this from shooting out the back of the receiver extension he installed a Brownell's adjustable gas key to dial down the gas.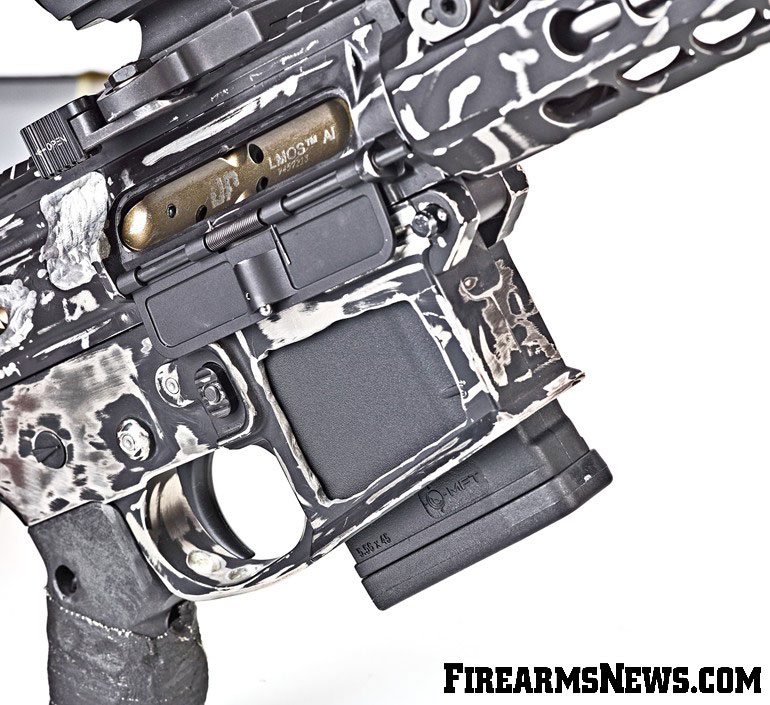 Yes, a whole section of the magazine well was machined away!
Intrigued by the build, I pestered Faubion about all the little details that went into his AR pistol. Here, in his own words, is a parts breakdown of what went into crafting a 2.9 pound AR: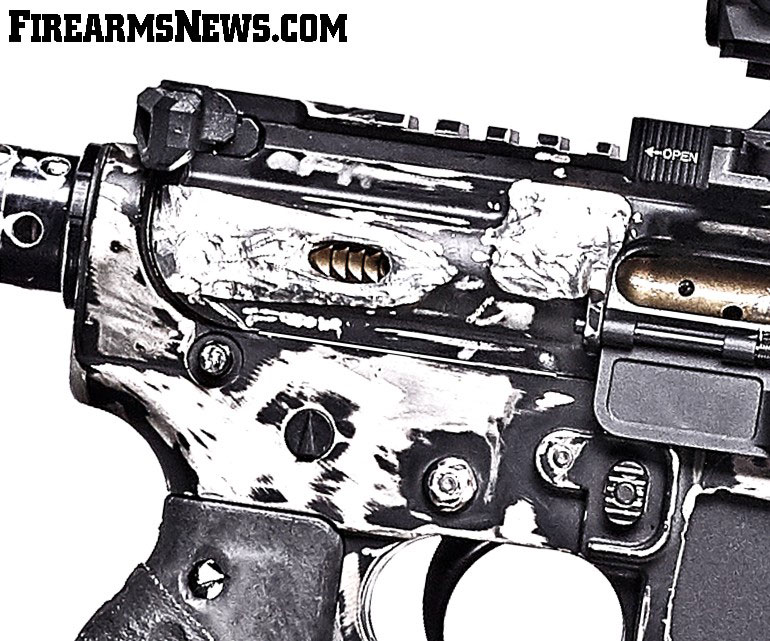 We don't need no stink'N forward assist or shell deflector! Both were ground off to further reduce weight.
RECEIVERS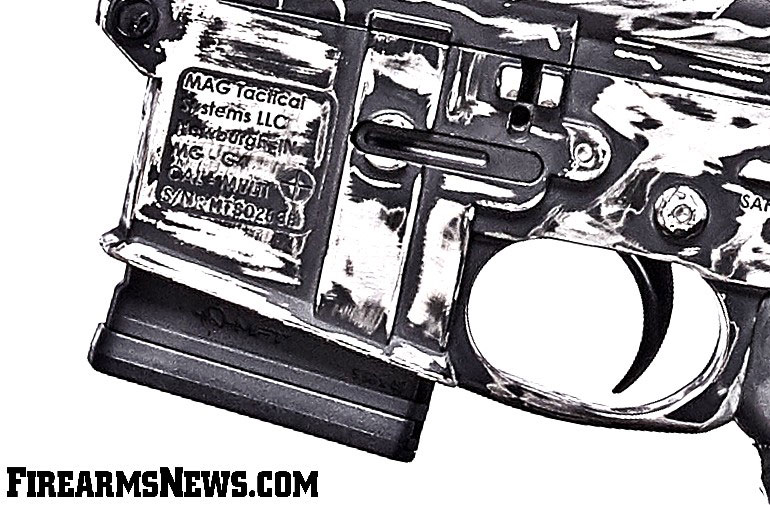 The Mag Tactical lower receiver weighed in at just 5.8 ounces before Faubion began skeletonizing it.
Outside of polymer, the lightest weight material option is magnesium. So, I rounded up a Fostech upper (4.4 ounces) and a Mag Tactical (now discontinued) lower (5.8 ounces). Additional grinding and skeletonizing didn't shave that much weight, but it did add to the apocalyptic theme. Compared to aluminum Mil-Spec receivers, these magnesium versions save over 5 ounces in weight.
BARREL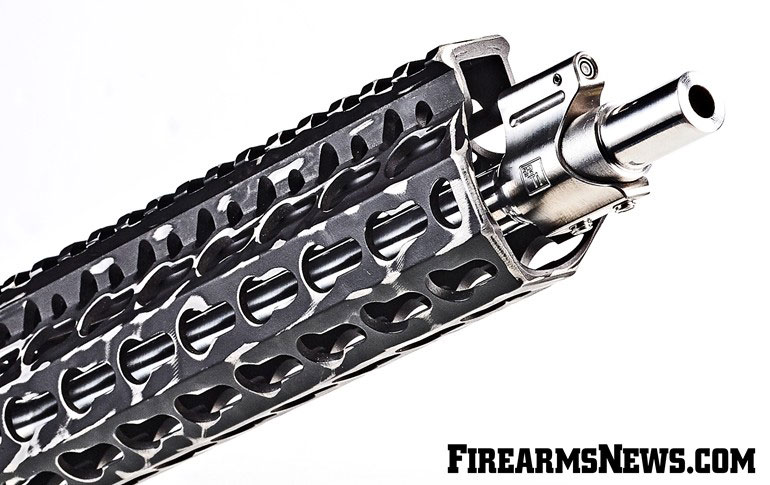 John Thomas at Retro Arms Works machined an 11.5 inch stainless steel barrel Faubion had in his parts pile down to a mere 14.4 ounces.
The easiest place to shave weight is in the barrel. This 11.5 inch stainless 6.5 Grendel barrel was given to me by a friend. The next day, I sent it to John Thomas at Retro Arms Works to be cut and contoured. Beautifully dainty, it now weighs 14.4 ounces. A Battle Arms Development (BAD) titanium gas block (.48 ounces) was selected. This weighs less than the .7-ounce gas tube.
BOLT CARRIER
When it comes to lightweight builds, go aluminum or go home. JP Rifles' Ultra Low Mass Operating System (LMOS) bolt carrier (5.7 ounces with a bolt) is the lightest option around. To throttle back the gas, I used an adjustable gas key from Brownells.
HANDGUARD
BCM's original KMR magnesium/aluminum rail weighs 30 to 40 percent less than handguards made out of pure aluminum. It's a shame that it's no longer available. If you find one, buy it.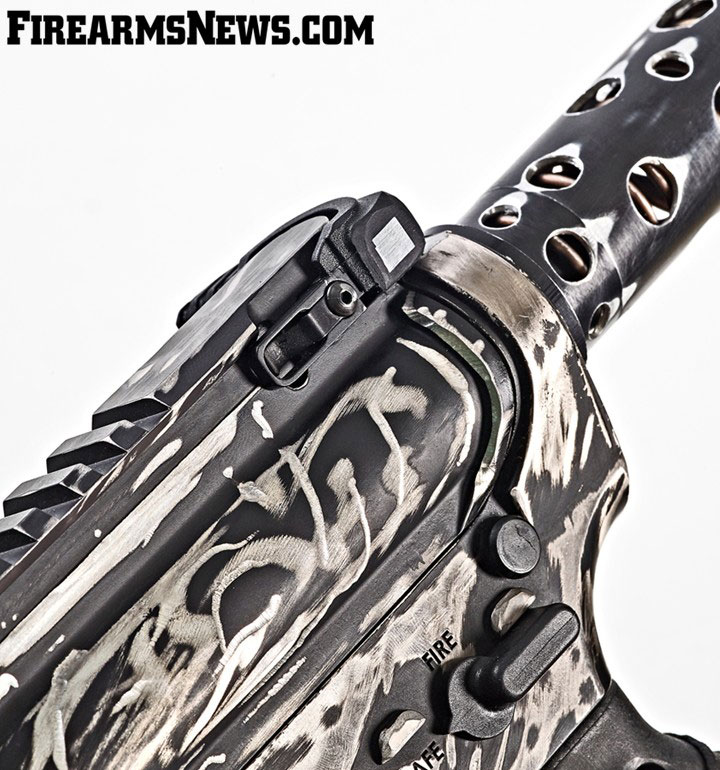 The charging handle was machined down, with whatever wasn't necessary cast aside.
Nothing metallic rivals its weight. New versions from BCM are still lightweight and also stronger, so they may be a better option in the long run.
LOWER PARTS KIT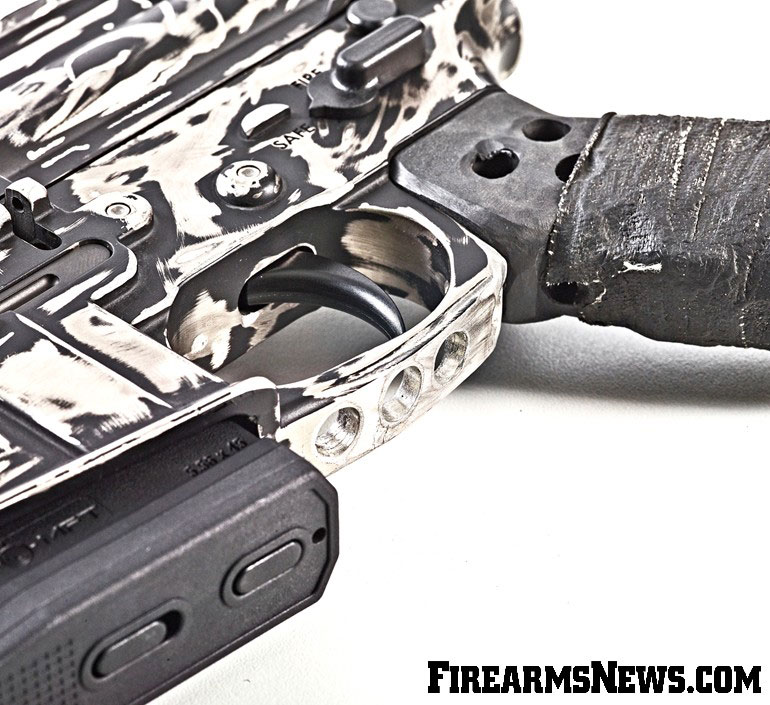 The triggerguard didn't escape the drill either.
The lightest addition to this build was the New Frontier Armory's polymer fire control group. Weighing less than 2 ounces, the polymer parts save 3 ounces over a metal lower parts kit. Plus, the trigger is surprisingly good.
BUFFER TUBE SETUP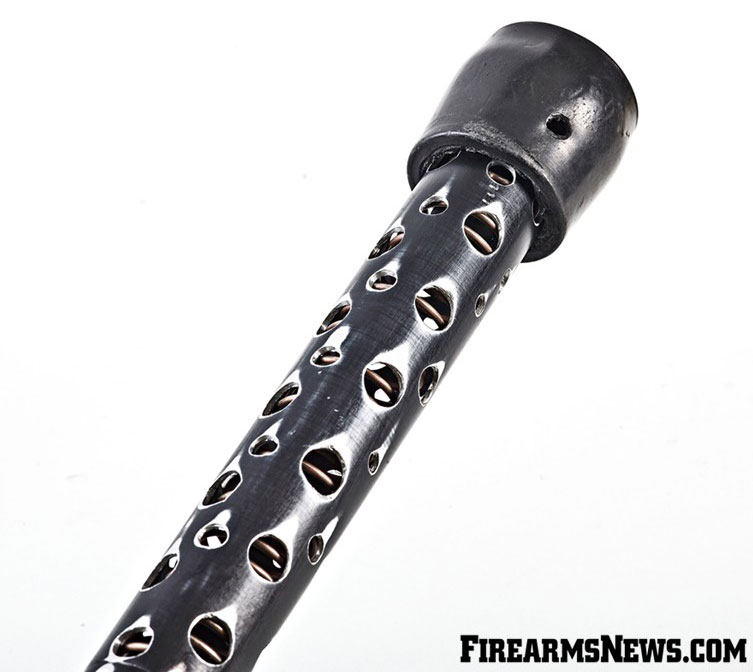 An A1 receiver extension was reduced in weight from 3.4 to just 2 ounces with the help of a drill.
An A1 receiver extension is cheap and weighs 3.4 ounces. By chopping and Swiss-cheesing it, I got it down to 2 ounces, which is less than any carbon-fiber tube available. For the buffer, I used Taccom's two-piece polymer units. They weigh just over an ounce and can be further lightened by drilling. I used a Carbine +10% buffer spring to soak up the energy during recoil.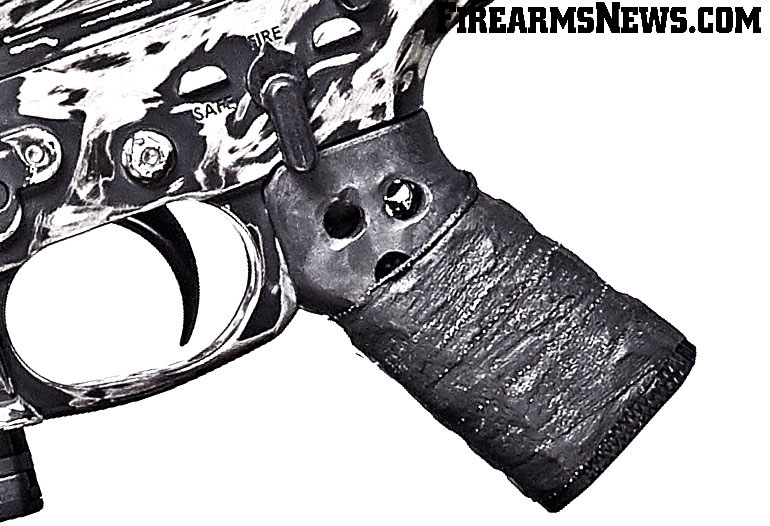 An A2 pistolgrip received the Swiss cheese treatment.
While I was pestering him about parts, I also inquired into the cost of the build. Here is the breakdown, piece by piece.
CostBreakdown:

While it may not be pretty to some, this ultra-light 6.5mm Grendel AR pistol would make a great companion on the trail.
The finished piece resembles a "prop gun from Mad Max". Beauty though, is in the eye of the beholder. Personally, I love it and look forward to having a chance to shoot it. Here is a piece you can grab, along with your ultra-light backpack, and never even notice it while hiking. When called upon though, it still delivers a 123-grain .264-inch projectile at a useful velocity. For an in-depth look at this interesting piece watch for a feature article on Faubion's build in an upcoming issue of our sister title Guns&Ammo Book of the AR-15.
Source: Firearms News