Vincent L. DeNiro, Editor – June 21, 2019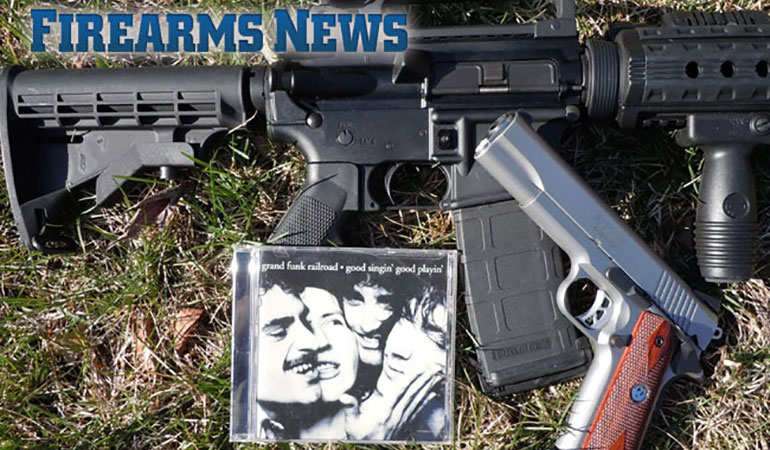 With the song title of Don't Let'em Take Your Gun and lyrics like: "So, if you want your freedom son, don't want your country to be overrun, you got to keep America number one, my daddy told me son, don't let'em take your gun," "They're takin' your Bill of Rights away from you," "We're willing to die for freedom," and "Won't be nobody takin' over our land if everybody's brother's got a gun in his hand," this really should be the anthem of all pro-Second Amendment organizations across the United States.
Performed by the legendary rock band Grand Funk Railroad and produced by Frank Zappa, this song appeared on the Good Singin', Good Playin' album in the Bi-Centennial year of 1976. I remember that year very well – red, white and blue were everywhere, and there were a ton of TV shows, commercials, consumer products, books, coins, stamps, etc. with "The Spirit of 1776" themes. The song is sung by Mark Farner, the lead singer of Grand Funk Railroad (GFR). I once asked Ted Nugent about the song and about GFR promoting a pro-gun ownership song and in typical Nugent speak, he said something to the effect that Mark Farner grew up in the same political patriotic "ballyhoo" as he did. Farner is VERY patriotic about gun rights. I saw Grand Funk Railroad in 1996, and even though my friends and I were screaming for them to play this pro-gun song, they never did. GFR put on a great show anyway.
As stated above, Frank Zappa produced this album (for those of you under 45, look him up). So, what was his stance on the Second Amendment? Mark Farner told me that it was he who got Frank Zappa into shooting and that Zappa had a great time shooting bottles with Mark's handgun the first time they shot together. Also, Zappa was very vocal about the loss of individual rights and freedoms and became an NRA member thanks to Farner. However, his children, Dweezil and Moon Zappa, have been outspoken anti-gun activists.
Be sure to listen to the song (https://www.youtube.com/watch?v=7QqVpZdzBZM), and if you cherish the Second Amendment, you just can't help but get goose bumps! It's a real shame that with over 90 million gun owners out there, and with the millions of songs produced, that there is only this "modern day" song to get us fired up about one of our rights. There may be a few more songs out there, but this one has to be the best. "Won't be nobody takin' over our land if everybody's brother's got a gun in his hand." Hear that loud & clear China, Russia, North Korea, and ISIS? So, when some liberal asks you why you support the 2nd Amendment, give him this lyric; "You got to understand. We are American men!"
With more broken promises from politicians who stated that they would uphold the 2nd Amendment piling up (just look at all of the states which have eviscerated the Right to Keep and Bear Arms just during the Trump presidency: CA, OR, WA, FL, MA, MD, NJ, NY, VT, NV, CT, etc. without a peep from Washington, D.C.), this is the time to get more active in the defense of our God-given, government-recognized right. Remember, being "pro-gun" can mean anything (pro-revolver in your nightstand, pro-skeet shooting, pro-hunting, pro- target shooting, pro-CCW, etc.) but being pro-2nd Amendment is the right to defend your life and liberty against tyranny and genocide. With over 100 million people murdered by their own government in the 20th Century alone, the Founders of this great nation were very knowledgeable regarding the human nature of government – the 2nd Amendment is not at all "outdated" and it has nothing to do with duck hunting.
See all lyrics below and pass it around!
Don't Let 'em Take Your Gun – Grand Funk Railroad (new link as original YouTube video was taken down)
Ohhh, people why don't you come in here and let me talk to you a while.
That's right, step right up and listen to a concerned citizen speak his piece.
I'll tell you a little something that my daddy told to me,
My basic fundamentals if you want to be free.
Cause son, there's something wrong internally.
So, if you want your freedom son,
Don't want your country to be overrun,
You got to keep America number-one.
(chorus)
My daddy told me son, don't let 'em take your gun!
That's what they tryin' to do.
Son, don't let 'em take your gun.
They're takin' your Bill of Rights away from you.
My daddy said son, don't let 'em take your gun!
That's what they tryin' to do.
Son, don't let 'em take your gun.
Don't let 'em take your gun away from you.
Ohhh, this year is our anniversary.
Two hundred years, people we've been free.
Won't be nobody takin' over our land,
If everybody's brother's got a gun in his hand.
I'm tellin' you we learned to fight for justice.
We're willing to die for freedom.
Hand in hand.
You got to understand.
We are American men.
Said they want your gun.
Said they want your gun.
Send 'em on the run.
Send 'em on the run.
This one ain't for Fun for fun.
This one ain't for Fun for fun.
If they do were done.
If they do were done.
(chorus)
Source: Firearms News