June 28, 2019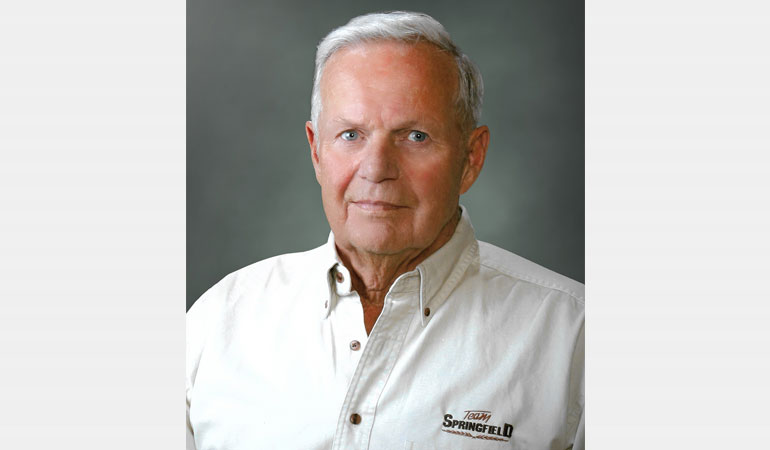 Robert R. Reese, 87, of Geneseo, Illinois, iconic founder of Springfield Armory, passed peacefully Saturday, June 22, 2019, in Clarissa C. Cook Hospice House, Bettendorf, Iowa.
Robert Rost Reese was born June 27, 1931, in Moline, Illinois, to Thomas William and Ruby Rose (Rost) Reese. Bob married Carol Schillinger on June 25, 1952, in Geneseo, Illinois, and went on to serve in the U.S. Army National Guard at Camp Cooke in Santa Barbara County, California. Upon discharge from the Army, Bob and Carol returned to the Midwest where he began farming in Henry County, Illinois with his father. In addition to farming, Bob had several other occupations. He was an agriculture equipment salesman in Tipton, Iowa, a real estate developer in Hanna Township, and a dealer of Army surplus with a store in Geneseo.
In 1974, Bob resurrected the "Springfield Armory" name, and in doing so, preserved iconic and historically significant firearm designs such as the M1 Garand, the US M14, and the 1911 pistol. Bob, his wife, Carol, and their son, Dennis, were the first employees in this next chapter of the legendary Springfield Armory. They were joined by sons Dave and Tom, and together the Reese family grew the business to be a global force in the firearms industry.
Bob was a man of many interests and talents. He enjoyed boating, water skiing, snow skiing, and racing dirt bikes, but his greatest passion was in all things related to firearms and shooting. He was an avid competitive shooter, hunter, and fisherman, who pursued those interests together with Carol all over the world. He hunted big game well into his late 70s, traveling to such places as Mongolia, Azerbaijan, the Amazon, Alaska, Africa, and everywhere in between.
Bob was a lifelong, committed advocate for the Second Amendment, who cherished its significance and lived his life guided by the principles of independence and personal responsibility. He loved trips to Camp Perry, exhibiting on Commercial Row and supporting the Highpower Rifle Championships and Bullseye Pistol Championships, an annual tradition that began only months after founding Springfield Armory in 1974. Bob was a lifetime member of the National Rifle Association, and has several firearms patents to his name. At the young age of 17, he became the North American Junior Trapshooting champion.
Bob is survived by his wife, Carol; three sons and daughters-in-law, Dennis J. and Jane Reese of Geneseo, David R, and Colleen Reese of Colona, and Thomas William and Jane Reese of Geneseo; seven grandchildren and their spouses, Stefany and Chris Toomer, Nicholas Reese, Robert and Bethany Reese, Jon Reese, Kelly and Houston Holt, Carolyn and John Kozlik, and Thomas William Reese; and two great-grandchildren, Ruby Grace Holt and Eli Joseph Reese. He was preceded in death by his parents and a sister, Carol Kleeman.
Bob's family invites friends to share stories and condolences at TrimbleFuneralHomes.com.
Memorials may be made to the following: VFW – https://heroes.vfw.org/page/21776/donate, or the Alzheimer's Foundation of America (AFA) – https://alzfdn.org/support-us/donate/.
Source: Firearms News